MEDO AIR BLOWER LAM-200
Specifications
| | |
| --- | --- |
| | |
| Power Supply: | 220 V |
| Rated Frequency: | 50 Hz |
| Rated Pressure: | 0.2 bar |
| Operating Power Range: | 0,05-0,3 bar |
| Airflow at Rated Pressure: | 200 l/min |
| Power Consumption: | 215 W |
| Weight: | 12.3 kg |
Application Examples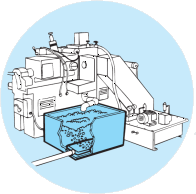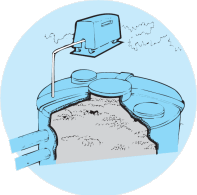 Sketch Drawing and Mounting Dimensions Diagram (mm)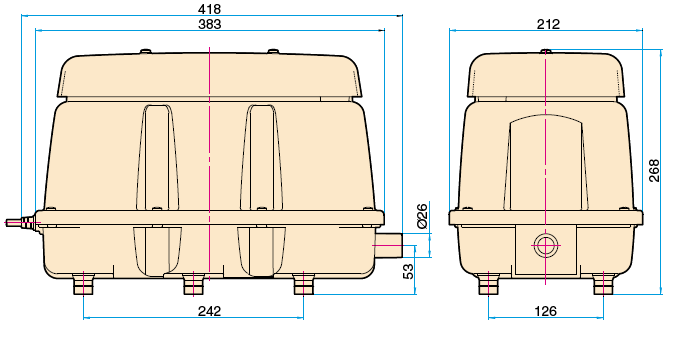 Linear Blowers For Aeration
LOW NOISE, EASY MAINTENANCE!
MEDO BRAND LA SERIES WITH SOUNDPROOF SEALED CASE REVOLUTIONARY BLOWER!
Teflon® seals with superior resistance to abrasion are used on all sliding portions of the piston and with the 'air bearing effect' created by the unique air pathway, the result is realisation of a 'completely oil-less construction'.
Features
Low Power Consumption – Highly efficient blower saves energy.
Quiet Technology – High performance sound proofing gives quiet operation.
Easy Maintenance – Only one screwdriver is needed for filter replacement.
Oil-less Design Offering Both Dry and Clean Air
Low Running Temperature – Energy saving design greatly reduces heating effect.
Long Service Life with Linear Piston Technology – The rated specifications enable continuous operation for a minimum 20,000 hours.
Light, Compact and ready-to-use design
Easy Installation – No earthing / grounding work is required
Applications
The sphere of applications and potential uses is swiftly growing.
High-performance compressors and vacuum pumps incorporating free-piston design are being eyed with great interest by a variety of industries.
Many models have already been widely adopted by cutting-edge industries as well as used in products closer to home, such as medical and health care equipment.
Replacement of the piston assembly can easily be performed by an authorised Service Agent
Service And Maintenance
Please refer to Instruction Manual